At Termate we help customers to understand what is important for electrical insulation components, this time looking at the qualities that are important for standoff insulators. If you have any topics you'd like us to consider for future articles, please contact our customer support team.
A standoff insulator comes in a multitude of shapes, sizes, and colours.  As a result, determining what key properties to look for when purchasing insulators can be tricky.
We have identified 3 key pieces of data for exceptional standoff insulators for low voltage switchgear and controlgear assemblies:
We shall explore what each point means and why it is important.
Standoff insulators are not just electrically insulating parts, they are also load-bearing components. The strength of the threaded insert assists in supporting important parts of your assembly, such as busbars.
Tensile and torque testing are the two main methods for determining the strength of an insert. Cantilever testing is another method; however, it has less of an impact on the overall strength of the insert. These values are significant because the last thing you want in a busbar assembly is for low-quality steel inserts to fail when bolts are tightened or when subjected to severe mechanical forces.
Tensile testing subjects the insulator to extreme stress and strain via stretching. Torque testing is a method of assessing how an insert will behave when the fixing is tightened. By attaching the testing apparatus to the inserts of the insulator, it can simulate the forces that an insulator's inserts may experience during normal operation. The values of these tests are included within data as maximum tightening torque and tensile strength.
Stainless steel and brass are widely used materials for standoff insulator inserts and both materials can provide good mechanical strength. Brass inserts provide excellent corrosion resistance, whilst steel requires plating to be corrosion resistant and the plating should be salt spray tested. Insulators with corrosion-resistant materials are beneficial for a variety of industries, such as outdoor green energy and offshore oil and gas.
The electrical insulation provided by the insulator's body material is equally important. The rated impulse voltage (
U
imp
), insulation voltage (
U
i
), and operating voltage (
U
e
) are three important values you should take note of. If an insulator is suitable for applications up to 1000 V AC and 1500 V DC, it is suitable for low voltage switchgear and controlgear assemblies because it meets the requirements of relevant clauses in the assembly's standard; BS EN IEC 61439. The body material of the insulator must be tested extensively before use in its intended application. The insulator as a whole must be subjected to tensile, torque, and cantilever testing to measure its mechanical strength, as the material the insulator is made from may break and cease to function as intended.
Heat resistance to continuous operating (conductor) temperatures and abnormal heat is also crucial. Flammability tests, like glow wire tests, can help determine a material's flammability rating in accordance with UL 94. A rating, such as UL 94 V-0, identifies that a material is able to self-extinguish within 10 seconds with no inflamed droplets if the material melts.
Standoff insulators are versatile components that can be used in more than one application. They do not have a specific product standard of their own, so insulators should meet the requirements of relevant clauses in that application's product standard, such as those in BS EN IEC 61439. The testing history should provide you with confidence that the insulators will meet the required ratings when correctly installed in your assemblies.
Manufacturers can send standoff insulator samples to third-party laboratories, or they can test in-house if they have appropriate testing equipment, to understand the capability of the insulator range. Normally a safety margin would be incorporated into the published data to account for minor material and manufacturing tolerances. We can provide customers with a declaration of rating based on this.
About Our Standoff Insulators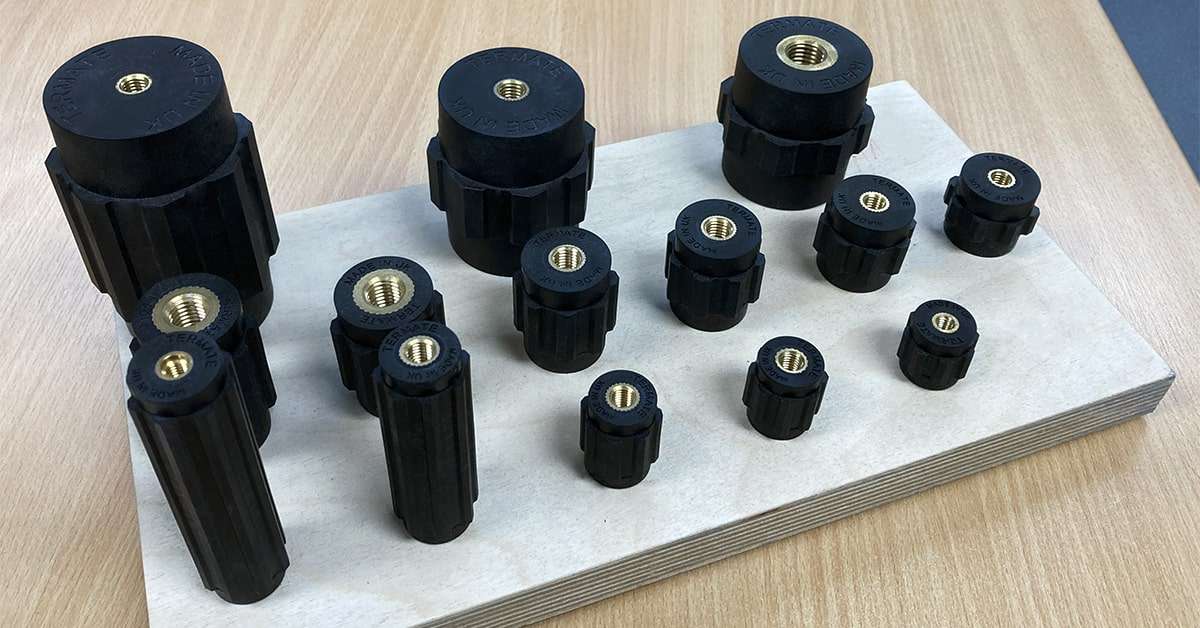 Our low voltage standoff insulators within our range have been expertly, independently, and rigorously tested to ensure suitability for your assemblies. We manufacture our plastic insulators with close dimensional tolerances from a flame retardant, UL 94 V-0 rated material.
Every standoff insulator within our range includes high-quality brass inserts with female threading. They provide high arc resistance and can withstand moisture and heat.
For easy-to-access data, you can view the complete technical information for our standoff insulators.