If you work in electrical engineering design, you know that a busbar support is a critical part of any power system. Without proper support and insulation, short circuit events can occur, causing damage to the system and potentially causing a fire.
In this article, we'll discuss everything you need to know about busbar supports, including their purpose, how they're made, and what sizes and types are available. We'll also touch on the benefits of using glass-reinforced polyamide in their construction and some of the industry specifications that cover their use. Finally, we'll provide an overview of where busbar supports are manufactured.
What are busbar supports?
Busbar supports are designed to protect power sources from short circuit faults by holding live conductors in place. They're made from electrical insulating material and come in a variety of sizes and shapes to accommodate different applications.
What is the difference between a busbar support and a busbar clamp?
Busbar supports provide electrical insulation and some structural support to a busbar system. Busbar clamps are mostly used to connect to or take power from the busbars e.g. cabling or by flexibar.
A busbar clamp is another piece of metal that clamps onto the busbar. Some people use the terms busbar supports and busbar clamps interchangeably, but typically speaking, a busbar clamp is a piece of metal that clamps onto the busbar.
What sizes do busbar supports come in?
There is no defined size for busbar supports. Busbar supports are available in a broad range of sizes and shapes to suit different applications. Within Termate's MX range, for example, there are two lengths—273mm long and 350mm long.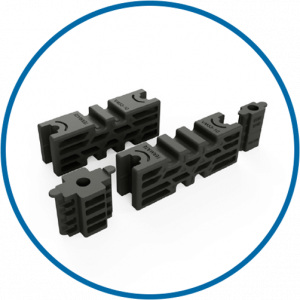 The size of the support is often decided by the phase centre of the support. If you look at Termate's busbar support ranges like the VMS (Versatile Mounting Support) each phase is a single VMS block rather than a multiple phase block and can be used at whatever phase centre a customer needs, but we also offer spacers that allow them to have a set phase centre to achieve higher fault ratings.
The size of the busbar support is also determined by the thickness of the conductor being held, the number of conductors per pole, and the orientation of the conductor (either flat or on edge). If you need assistance determining which busbar support would best meet your needs, speak to our technical sales team.
How much weight can the busbar supports hold?
The weight that the busbar supports can hold is not determined by the material of the support. Much of the load bearing capability is determined by the method by which the busbar support is installed in the assembly.
Termate's Busbar supports are used for a wide range of conductor sizes and a number of conductors per phase or pole. The focus is on making sure the supports have the appropriate short circuit current withstand rating.
What are the environmental conditions that each busbar support must be able to withstand (e.g. temperature, humidity, etc.)?
Generally speaking, with busbar supports being used within live systems, they are often handling higher temperatures.
In line with the limits set out in IEC 61439, insulating components in contact with conductors may be required to continuously operate at an average of 140°C (Max 145°C). Termate's glass-reinforced polyamide busbar supports meet this requirement, the material for them being assigned thermal class F established using methods similar to IEC 60085.
Busbar supports installed in enclosures are not subjected to weathering extremes or significant variations in humidity or moisture, so there is little risk of damage occurring to the components from such events.
How are busbar supports installed?
This is very much dependent on the busbar support and the assembly it is installed in.
Design engineers use a variety of brackets, rails, channels and mountings to install busbar supports securely into an enclosure. For our standard MX range, you will need two supports per assembly. They are designed not to clamp down on the busbars but onto the support itself. Our MX supports on their own can hold 25mm copper, but if larger busbars are needed we also offer spacers, allowing the larger busbars to fit without having to be clamped onto. The supports would then be secured to a mounting bar using M8 studs.
What material are busbar supports manufactured from?
A busbar support can be made out of any material that has the suitable electrical insulation and mechanical strength properties. Some examples of these materials are glass reinforce polyamid, Dough Moulded Compound (DMC), Sheet Moulded Compound (SMC), Bulk Moulded Compounds (BMC), and phenolics with paper or cotton laminates. These materials can be used in either thermoset or thermoplastic manufacturing processes.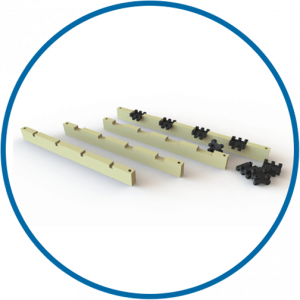 Through rigorous testing and expert technical understanding of the requirements of a busbar support, Termate manufactures busbar supports out a three different materials.
Our range of glass-reinforced black busbar supports are manufactured using injection moulded Glass Reinforced Polyamide 6.6.
Our range of beige busbar supports are manufactured using Glass Reinforced Polyester DMC (Dough Moulded Compound).
Through our CNC service, we are also manufacturing busbar supports out of GPO3 polyester glass laminate.
Which busbar supports are well-suited for small distribution boards?
For small distribution boards, we recommend the Termate DBBS (Distribution Board Busbar Support) range which is well-suited for this application. These supports are suitable for 25kA 3s (at 315mm centers) or 50kA 1s (220 centers) and can hold 5 different sizes of copper bars, ranging from 20×5mm to 30×10mm.
What is the industry specification that covers busbar supports?
IEC 61439, the standard for low-voltage switchgear and controlgear assemblies, is the industry specification within which low-voltage busbar supports must comply.
Where are busbar supports manufactured?
Busbar supports are manufactured by Termate, the only UK-based manufacturer of injection-moulded busbar supports. Termate has been in business for over 60 years and is based in Nottinghamshire, England.
To discuss any requirements you have for electrical insulating components, speak to our technical sales team.